Local Law Enforcement
Constables are the first link in the county's chain of law enforcement, and they function as the chief process servers of the Justice Courts.
Constables have state-wide jurisdiction to execute criminal process and warrants. They have county-wide and contiguous county-wide jurisdiction to execute civil process.
Constables also provide professional services including patrol, traffic enforcement, a vacation watch program and community education programs.
---
Sheriffs and their deputies are fully empowered peace officers with county-wide jurisdiction. The duties of a Texas Sheriff include providing law enforcement services to residents, keeping the county jail and providing bailiffs for the county and district courts.
In addition to their other services the Sheriff's Office offers an added sense of security when you go on vacation or go out of town. With the Vacation Vacation Watch Program and the school crime stopper program Kid Chat
Non emegency numbers
| | |
| --- | --- |
| County Constable | 281-364-4211 |
| County Sherrif | 936-760-5871 |
| Crime Stoppers | 800-392-7868 |
| School Crime Stop | 888-543-2428 |
| Fire Department | 281-355-1268 |
| Animal control | 936-442-7738 |
Community events we participate in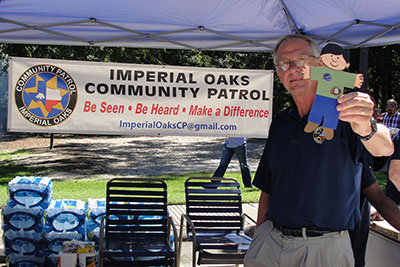 | | | |
| --- | --- | --- |
| EVENT | DATE | LOCATION |
| Easter Egg Hunt | Apr 05, 2014 | Falls |
| Drive in Movie Night | Jun 13, 2014 | Oaks |
| HOA Meeting | Jun 26, 2014 | Falls |
| Independence Day | Jul 04, 2014 | Oaks |
| Drive in Movie Night | Aug 08, 2014 | Falls Pool |
| Fall Festival | Oct 4, 2014 | Oaks |
| National Night Out | Oct 07, 2014 | Falls |
| Fall Festival | Oct 18, 2014 | Falls |
| Santa at the Lake Club | Dec 13, 2014 | Falls |
| | | |